We're excited to
party, celebrate
with you!
COVID-19 STATEMENT
DEAR CLIENTS,
Sarsie's Parties is committed to the health and safety of our clients and our team members. We're closely monitoring this crisis and update our policies accordingly. Our shop will remain closed for walk-ins, order pickups, and client meetings, but we're happy to (virtually) see you here! To better serve our community, starting May 1, we'll be accepting online orders and balloon deliveries.
We are currently implementing health measures for our team members. Our shop will be routinely sanitized. Employees working will be required keep 6 ft away from each other, to wash their hands, and wear a mask prior to creating your order.
When we deliver, our team members will either be leaving your delivery item at your doorstep or installing your yard balloons. This ensures that we follow our no contact delivery protocol.
We thank you for your understanding and continuous support for our family business. This pandemic has created challenges for each and every one of us, but it has also brought our communities and families closer together.
We hope that you and your family stay safe and we're hopeful that we get to party with each of you again soon.
Alex and Sarah
Our goal is to help you plan an
event through our
GLAMMED UP, FUN-FILLED, and STRESS-FREE CELEBRATIONS.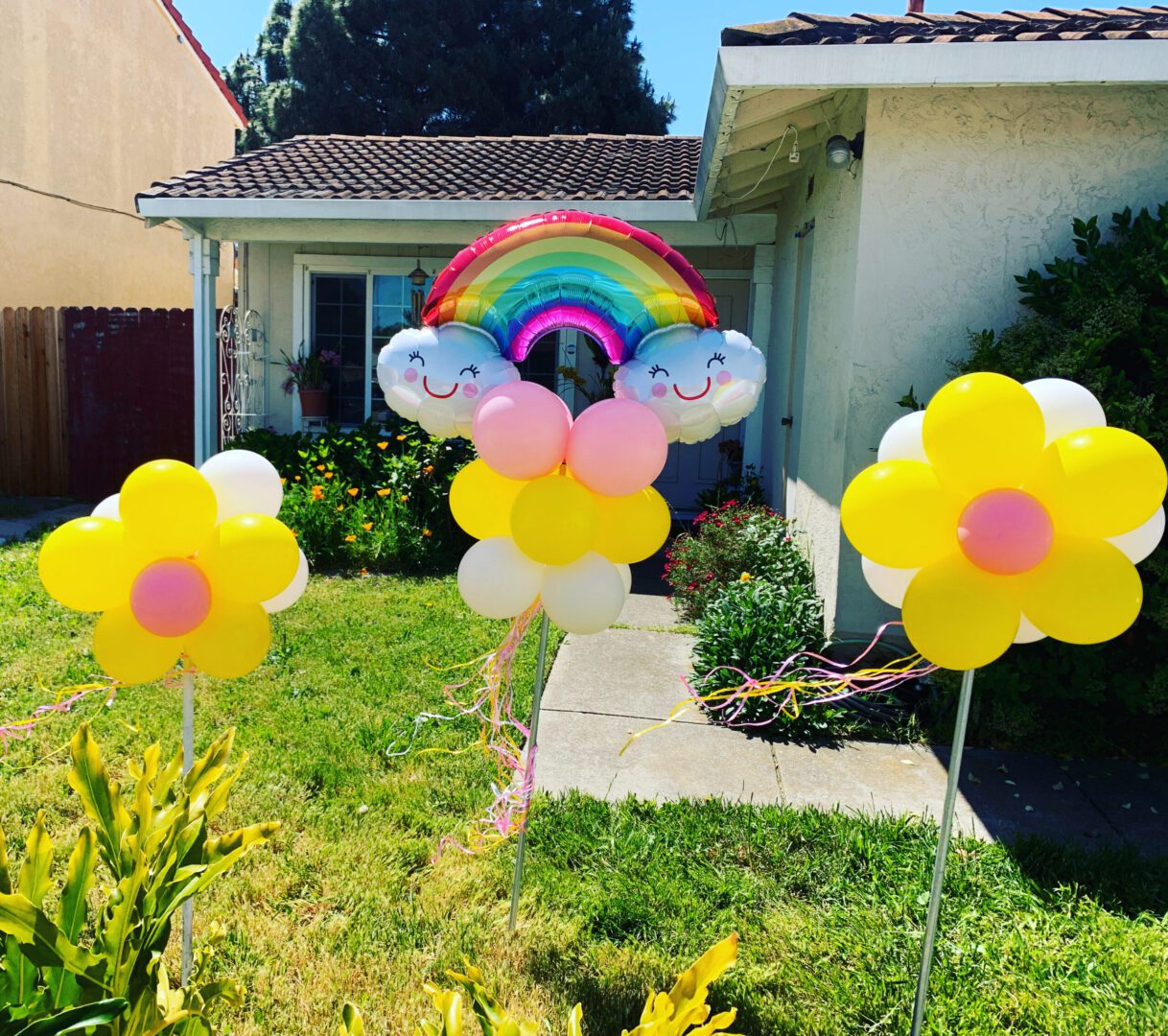 They did amazing job!! This is a worry free party for us epecially were busy working...everyone loved all the decorations,set up, photo booth, games and mostly the magic show!! All kids and adults are amazed and enjoyed it!! Thank you
I just celebrated my daughter's first birthday and I knew that I wanted it to be special since she is my only girl. After careful research, I ran into Sarsie's Parties and I can't stress you enough that your search stops here! Sarah is AMAZING! She did an amazing job at helping with my daughter's 1st birthday planning. Her theme was "Wonder Woman" and she expressed that this was her first time doing a Wonder Woman party. Well...she fooled me! Because I was just blown away with her work on the day of the party, I was getting none stop compliments and inquiries about who did the party. Sarah went above and beyond, she helped me with vendors and suggestions too. Book Sarsie's Parties ASAP, I promise you... you will thank me later! LOL Thank you Sara!!
Sarsie's did such a great job for my second daughters first birthday party! They were so professional and easy to work with. I had a lot of questions and they were quick to answer. Although they are a bit on the pricey side, I'm really glad I went with Sarsie's because the decorations were so beautiful!
Although I did not end up going with Sarie's Parties for my son's first birthday party, I must commend them on their top-notch customer service. Sarah and I communicated back and forth for almost a month through email and phone to try to conceptualize my vision and make it come to life. She sent me three different proposals, included sketches and helpful ideas to play around with and also conducted a site visit.   Because I am a mom-zilla (former bride-zilla) I wanted a more complicated and elaborate backdrop with props and other 3D elements.  It's my son's first birthday so I wanted to be extra.  Sarah was very upfront and honest about what they could provide, especially considering my chosen theme was unfamiliar to her and just not very common.  In the end, we decided to part ways. But she didn't stop there, she was able to find me another vendor that could provide the exact services I needed. I am so sad that Sarah and I did not end up working together because she spent so much time on this potential project. Also, I really appreciate that they include a price list, which allows customers to narrow down their search.   I will definitely hit them up for our next event.
Sarah and her team are rockstars of party planning. It was my first time working with them but not the first time to attempt booking them for our son's birthday party! They are in demand so you have to contact them ASAP when you have a date in mind. The first time I reached out to them was through Sarah, the owner, four years ago for my son's first birthday party then. However, they were already booked for another event for our chosen date. Even then, Sarah was very professional during our brief email exchange which I really appreciated. She left a good impression on me. I kept her contact info all these years and it came in handy this year when our son asked for a 4th birthday party! For this year's party, which was yesterday, we opted for their Luxe Celebration package, and it was worth every penny! Sarah was always one step ahead of the planning and everything I've asked for or about, she's already done it! I love hosting parties and all that come with them, but I realized I never really get to be present with my guests because I tend to always run around taking care of everything. So, for this party, I was really happy to have Sarsie's Parties do their magic. I showed Sarah the Pinterest photos of what my vision was and let her and her team run with them! My husband and I were blown away with the outcome and the whole duration of the event. We really enjoyed our time with our guests and our son enjoyed all the activities and games Sarah prepared for him and his friends. We also got lots of compliments with the decor and the overall atmosphere of the party all the way to the very end! Our now four year old even said "I liked my party. It was so fun!" Thank you SO much Sarah, your hubby, and the entire Sarsie's Parties team! Such a breeze working with you guys!
CORPORATE CLIENTS
toys r us    facebook 
masonic homes of california   pacifica senior living   
cadence   jabil
union sanitary district   echo church 
We Make Celebrations Easy
Sarsie's Parties is fully licensed & insured serving the San Franciso Bay Area